Plan Your Visit
We have services every Sunday at 9am & 11am.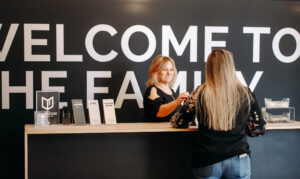 When you first arrive, you'll be greeted by new faces that are excited to see you! Each service begins with a mix of energetic and heartfelt worship led by our worship team. Feel free to worship however you feel comfortable. Sitting, standing, hands in the air, hands folded, eyes open or closed. The Scripture-based message will encourage and inspire you to walk closer with Jesus. If you have any questions along the way, our Guest Services Team would love to help you! Don't forget to stop by the Info Desk and fill out a Welcome Home Card–you'll receive a free gift and we'll make a $20 donation in your honor to one of our community parters!
PLAN A VISIT
We understand that it's hard to visit a new church for the first time. That's why we have a host team who is ready to help our guests find their way. If you'd like to meet up with a host for a first-class experience, just fill out the form below. You can even let us know that your kids will be attending our safe, secure, kid-friendly ministry while you attend the adult worship experience.
ARE YOU BRINGING CHILDREN?
To help make your Sunday visit as enjoyable as possible, let us know if you have any children coming with you. This will preregister them for our Kids Church services – so all you have to do is confirm your information with our team at the New Families desk!
LET US KNOW YOU ARE COMING
We can't wait to meet you, let us know you are coming and our team will be ready to greet you!